---
'Unique Venue' refers to exclusive locations or places such as historical buildings, museums, which made available as venues for large-scale gatherings such as business meetings, gala dinners, welcome receptions, etc. allowing participants to an extraordinary experience of arts, culture, and history.

Take advantage of Chiba prefecture's sophisticated urban spaces and vestiges, as well as the abundant nature and attractive tourism resources while being located in the Tokyo metropolitan area.

Also, please check out our newly released, 'Chiba, Japan Unique Venue' guide. This comprehensive e-book features various unique venues such as museums, Japanese gardens, monorail, and a lot more through high-resolution photographs and explicit layout for your reference.


Chiba City Museum of Art Sayado Hall
The building of the Chiba branch of the former Kawasaki Bank built in 1927, has been restored and preserved as-is by encompassing it in the interior of a new building. One of the few historic buildings existing in Chiba City, it was designated as a cultural asset of the city in 1932. In its magnificent Neo-Renaissance space, you can hold a party with a special feel.
In this Japanese garden with a path around the pond, located in the prefectural Makuhari Seaside Park, mountains and rivers, the sea, and woods are represented, so while you walk you can savor the natural beauty of the landscape which varies from season to season. In the park, there is a sukiya-style authentic tea house, "Shoraitei", made from Kitayama cedar from Kyoto. Here you can familiarize yourself with traditional Japanese culture in the tranquil atmosphere of the small room, hall and ryurei seats.
Running through Chiba City and nicknamed the "town liner", it provides the backbone of the city's transport links. In 2001, it received a "Guinness certification" as the world's longest operating, suspended monorail. In 2012, it received the "Good Design Award" for the glass floors of the carriages, via which you can enjoy a "mid-air walk" on the world's longest railway suspended in the air. A unique plan is available, providing finger food and Japanese, Western and Chinese food inside the carriages, as well as entertaining participants by making sushi on the spot.
This is a party room in this major league-standard stadium which is home to the pro baseball team, Chiba Lotte Marines. It also features an open terrace, where it is possible to hold a party for a variety of purposes while watching a baseball game.
An open-air bay front location with a harbor. The green space and the restaurants adjacent to it are available as one large-scale venue by the bay.
Maximum number of people
Pier-01 Restaurant 300 people; Amandan Sail (Party Venue) 270 people; Ocean Table Restaurant 300 people
Location
Chiba City
Website
For more information, please contact, Chiba Convention Bureau
https://www.ccb.or.jp/mice/e/
While admiring the night view of Tokyo Disneyland Resort ® and Tokyo Bay, you can experience Japanese hospitality through karaoke and Japanese food with a focus on freshly fried tempura made from seasonal Edo-style ingredients such as shrimp, whiting, squid, sea eel and vegetables. The boat is fully equipped with air-conditioning and flushing toilet, and as seats are provided, you can enjoy yourself while sitting comfortably.
Chiba Prefecture Boso-no-Mura
This is a participatory museum that teaches the history and traditional lifestyles and skills of the Boso peninsula through archeological findings and exhibits of samurai, merchant, and farmer households. Visitors use their five senses to see, hear, smell, taste, and touch the exhibits to deepen their understanding of the historical culture of the Boso region. It is also possible to enjoy parties at the museum where guests can experience the changes over time, from prehistoric and ancient times to the modern age, in clothing, food, accommodation and skills in this abundant "Satoyama" rural environment.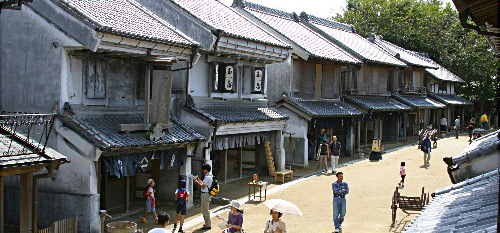 Naritasan Museum of Calligraphy
The Naritasan Museum of Calligraphy is an integrated museum where you can encounter new collections every time you visit. The hall has a profound exterior and a spacious space with high ceilings. With a temple motif design suitable for a museum located in a temple district, this perfect blend in harmony with the surrounding nature. When you visit the Museum, you will be amazed by the huge calligraphy displayed in the Central Hall with a total length of about 13 meters and standing 20 meters high. Please visit and be fascinated.
Museum of Aeronautical Sciences
This is Japan's first museum dedicated to civil aviation, with exhibits of real aircraft and engines. In addition to exhibits, visitors can also enjoy piloting experience on a flight simulator. From the observation room located on the 5th floor, you can see the aircrafts taking off and landing at the adjacent Narita International Airport.