---
---
Choshi Sushi (City of Choshi)
Choshi Fishing Port boasts the largest amount of fish landing in Japan with 200,000 to 240,000 tons per year. The sushi using coastal waters raw tuna, marine products and other local fishes are absolutely exquisite. In addition, the taste obtained by a combination between fresh fishes prepared in sashimi or boiled and the soy sauce made in Choshi offering you the supreme level of locally produced and locally consumed ingredients is definitely worth trying.
Fisherman's Pudding(City of Choshi)
A rolled sushi having the characteristic to offer a sweetness similar to a custard made of thick egg yolks and a smooth texture. It was originally designed to be eaten by exhausted fishermen for when they had a good catch and nowadays it has become a local dish of Choshi which is particularly appreciated.
Boshu Sushi (City of Tateyama)
The local fish sushi using freshly caught fishes are 2 to 3 times bigger than the usual ones, offering heavy volume with large portions of fish and rice. Lots of unique kind of sushi such as conger eel and mackerel Oshizushi (pressed sushi) are also available.
Tateyama Broiled Seafood Donburi [Rice Bowl] (City of Tateyama)
A special donburi meal allowing you to enjoy 8 different types of seasonal locally grown seafood. This "OMOTENASHI Local Gourmet" which is fun to open, and fun to watch, is using a special triple layered donburi in where you will find from top to bottom "Broiled seafood" (first tray), "Sashimi" (second tray) and "Seafood donburi" (third tray).
Futomaki Sushi [Thick Sushi Roll]
These decorative sushi rolled with intricate patterns look like Kintaro candies once sliced, they are colored with a variety of designs such as flowers, butterflies and dragonflies.
Namero [Minced Fish] & Sangayaki [Grilled Namero]
The "Namero" is a splendid fisherman's food prepared with horse mackerel and sardines seared very briefly with a kitchen knife and in which condiments such as green onion and ginger are added, and marinated in miso. It is said that the name "namero (lick)" was given because it is so delicious that it makes you want to lick the plate. The "Sangayaki" is a dish made of namero wrapped in shiso leaves and grilled like a hamburger.
Sangayaki (Grilled Namero)
Eel Dishes (City of Narita)
In Narita Sando, there are a number of long-established restaurants using "secret sauces" for which the recipes have been passed down from generation to generation, and you can feel mouth-watering smells in the air. Please fully enjoy the soft and puffy baked eel having a juicy taste that has been delightfully appreciated by temple visitors since the Edo period.
Oraga-don [Rice Bowl] (City of Kamogawa)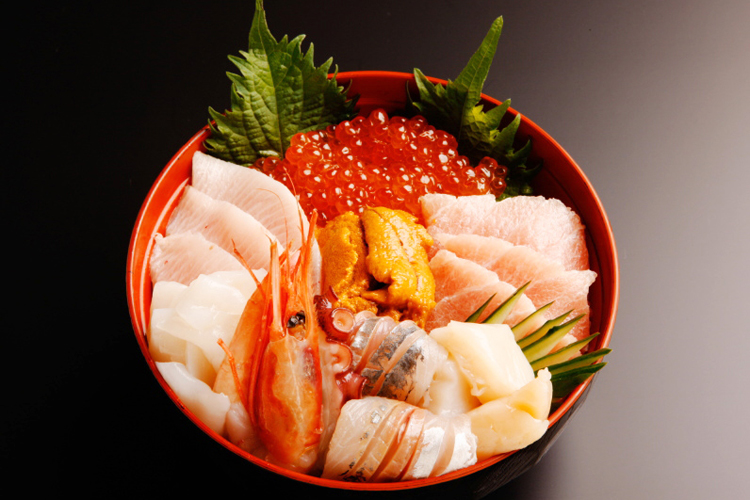 "Oraga" means "our home" in the Kamogawa dialect. Please have a taste of this luxurious rice bowl using plenty of fresh vegetables, seafood and meat locally produced.
Hakarime-don [Rice Bowl] (City of Futtsu)
"Hakarime" means conger eel. In this region where conger eel fishing is a prosperous activity since ancient times, the specialty is the "conger eel rice bowl" using conger eel entwined with sweet sauce so soft that it seems like melting in the mouth.
Rock Oyster Dishes (City of Asahi)
The rock oysters taken on Ioka Beach from June to August are natural oysters requiring 6 to 7 years to grow as large as the palm of the hand. Characterized by their puffy texture, rock oysters are called "milk of the sea" for they are abundant in nutrients and have outstanding flavor.
Sardine Dishes (Town of Kujukuri)
You can enjoy unique dishes made with fresh sardines locally landed in "the town of sardines" Kujukuri, including tempura, dumpling soup and sardines grilled with salt. We also recommend you to try processed products including sardines marinated in sesame or dried with mirin (sweet rice wine).
Shirako Style Bouillabaisse (Town of Shirako)
Arranged in Shirako style by using plenty of blue fish as well as lots of tomatoes and onions which are the specialties of Shirako town. You can have a taste of it at the restaurants and accommodations located in town.
Whale Dishes (City of Minamiboso)

You can enjoy unique dishes in the only fishing town in Kanto allowed to perform whaling such as a specialty called "Kujira-no-tare" using whale meat marinated in a special sauce and then sun-dried, and also whale prepared in tatsuta-fried style or in sashimi.
White Gauramen (City of Sodegaura)

A local ramen using milk which is the specialty of Sodegaura. Particular attention was given to the soup by softening the distinct smell of milk with ginger and adding cream cheese to obtain smoothness and body.
Katsuura Tantan-men (City of Katsuura)

The point is that the deep red color of the chili oil generously added to a soy sauce-flavored soup is coating the surface to this spicy ramen. This new wave "Tantan-men", that cannot be found anywhere else, let you enjoy a spiciness making your body warm and a taste so good that you cannot help wanting more. Celebrating the revitalization of town with this local gourmet taking part in Japan's largest community revitalization festival. The "Nekketsu!! Katsuura Tantanmen Sendan" was awarded with First Prize at the B-1 Grand Prix in Towada.
Mobaramen (City of Mobara)

Offering generous pork belly topping, this local ramen uses vegetables grown locally such as onion and others. The soup flavor is original in each of the shops in town.
Many areas of Japan have popular local specialties, and perhaps the widest variety of all is developed around the national dish—ramen noodles. Chiba Prefecture has is own local ramen noodles, too, some of which are renowned nation-wide. Get a taste of the genuine local bowls of ramen that Chiba has to offer!
Please see the link:
http://japan-chiba-guide.com/en/topics/ramen.html
---
What we want you to taste if you come to Chiba
It has a fantastically high fat content throughout the year, and apart the fact that once boiled you can feel its taste melting in your mouth, it is also popular in sashimi and shabu-shabu. Landed in "Choshi, Katsuura" and others.
From early spring to early summer, the refreshing taste of Hatsugatsuo (season's first bonito) is popular, its meat has a clear aspect offering a chewy texture. The "Modorigatsuo" (returning bonito) in autumn is also exceptional as it contains lot of fat. Main fishing grounds are "Choshi, Katsuura" and others.
The leading abalone production area in Japan is in Chiba Prefecture. Many of which are caught between "Isumi and Minami Boso.". Characterized by a thick meat and a crunchy texture, you can experience its rich flavor and the pleasant aroma of the ocean.
Chiba prefecture is ranked as top-class in Japan for the amount of lobster caught. It has an established reputation for being big with vivid colors and filled with a delicious taste. Landed in "Isumi~Tateyama".
A legendary pork meat revival made possible by the enthusiasm of the producers. It is characterized by its fine-grained flesh, the sweetness of its gleaming white fat and a delicious taste that seems like melting in the mouth.
In Chiba Prefecture, known as "the birthplace of dairy industry", you can enjoy ice creams and soft creams having their own characteristics in various places all around the prefecture. There is also an abundant choice of tastes, from classic type of flavors using plenty of fresh milk up to unique type of flavors using local specialties such as peanuts, soy sauce, biwa (loquats) and more.
Chiba Prefecture has also a prosperous rice production. History of making sake dates back to the Edo period. In the prefecture, even nowadays, there are about 40 breweries competing on their brewing techniques and taste experiences. There are also many breweries that can be visited. Please try to find your favorite local sake!
By the way, Chiba Prefecture is also the largest producer of soy sauce. The towns of Noda and Choshi, where are staying leading soy sauce manufacturers, are nationally known as the towns of soy sauce.
The Japanese have a collective term for foods harvested and enjoyed in each of the four seasons: shun-no-mono (flavor of the season). All flavors of the season are deliciously sweet, savory, and nutritious. One category is especially popular and of the highest quality in the world. Let's take a look at the fruits of Japan. Countless varieties of delicious fruit grow in Chiba Prefecture, from everyone's favorite strawberries, to pears and loquats for which Chiba is one of the largest producers in Japan, to the relatively new dragon fruit. Many areas of Chiba invite visitors to pick in-season fruit and enjoy it on the spot, and have on-farm stands selling freshly picked fruit. Visit any one of them and get a taste of the flavor of the season.
Please see the link:
http://japan-chiba-guide.com/en/topics/fruits.html
Strawberry Picking (From January to May)
In Chiba Prefecture, where spring comes a little earlier, you can enjoy strawberry picking in various places of the prefecture from January. Among those, the "Strawberry Road" in Sanmu City is a famous strawberry picking spot in Kanto. Please try this "pick-your-own" experience which represents springtime.
Japanese Pear Picking (From August to September)
Chiba Prefecture is a suitable location for the cultivation of Japanese pears (also called "nashi") and it boasts the No.1 position in Japan for growing area, crop yield and production amount of Japanese pears (2013). From early August you can enjoy the "Kosui" that has a soft and dense flesh, a strong sweetness and a unique flavor, then from late August the "Hosui" that are very juicy with high sugar content offering a good balance between acidity and sweetness.
Loquat Picking (From May to June)
The loquats of Chiba Prefecture are large and round, very juicy and have thick flesh. The elegant sweetness announcing the coming of early summer will spread to your whole mouth. You can enjoy greenhouse grown loquats from May and outdoor grown ones from June. In addition, they have been offered to the Imperial Family every year since 1909 and this tradition is continuing up to the present day.
Peanut Digging (From September to October)
In Japan, peanuts are the first thing that comes to mind when you mention Chiba. The places where you can enjoy a unique peanut digging experience are also in Chiba Prefecture. It is recommended to eat the peanuts harvested from fields as "Yude Rakkasei" (Steamed Peanuts) boiled just the way they are in salt water. They have a soft texture and you can eat them with their skin. The "Chiba-handachi", which is the peanut brand said to have the oldest history in Japan, is a popular brand considered as of the highest grade, having body and a rich flavor.
Bamboo Shoot Digging (From April to May)
Freshness is a vital point when it comes to a bamboo shoot having its tip showing a little from the very moment is was dug. If you take part in bamboo shoot digging, you will be able to get fresh bamboo shoots. The feeling of digging up bamboo shoots from the soil might just become an addiction once experienced.
Clamming is an activity allowing to enjoy by using vast and precious natural tidal flats. From the clamming grounds of Kisarazu, called the "Mecca of Clamming", the clams which can be taken in abundance are known to be "thick, very tasty, and juicy" and that is why many people return there often to enjoy this delicious gift of nature.
Dragnet fishing allows you to experience the feeling of a fisherman, when you join forces with many other people to drag by hand the net towed into the bay and that sardines, mackerels and other fresh fishes are jumping into it. The fishes you caught can be brought back home as souvenirs or you can also enjoy eating them in a seafood barbecue on the beach.