Chiba hosted technical visit delegation from Thailand
---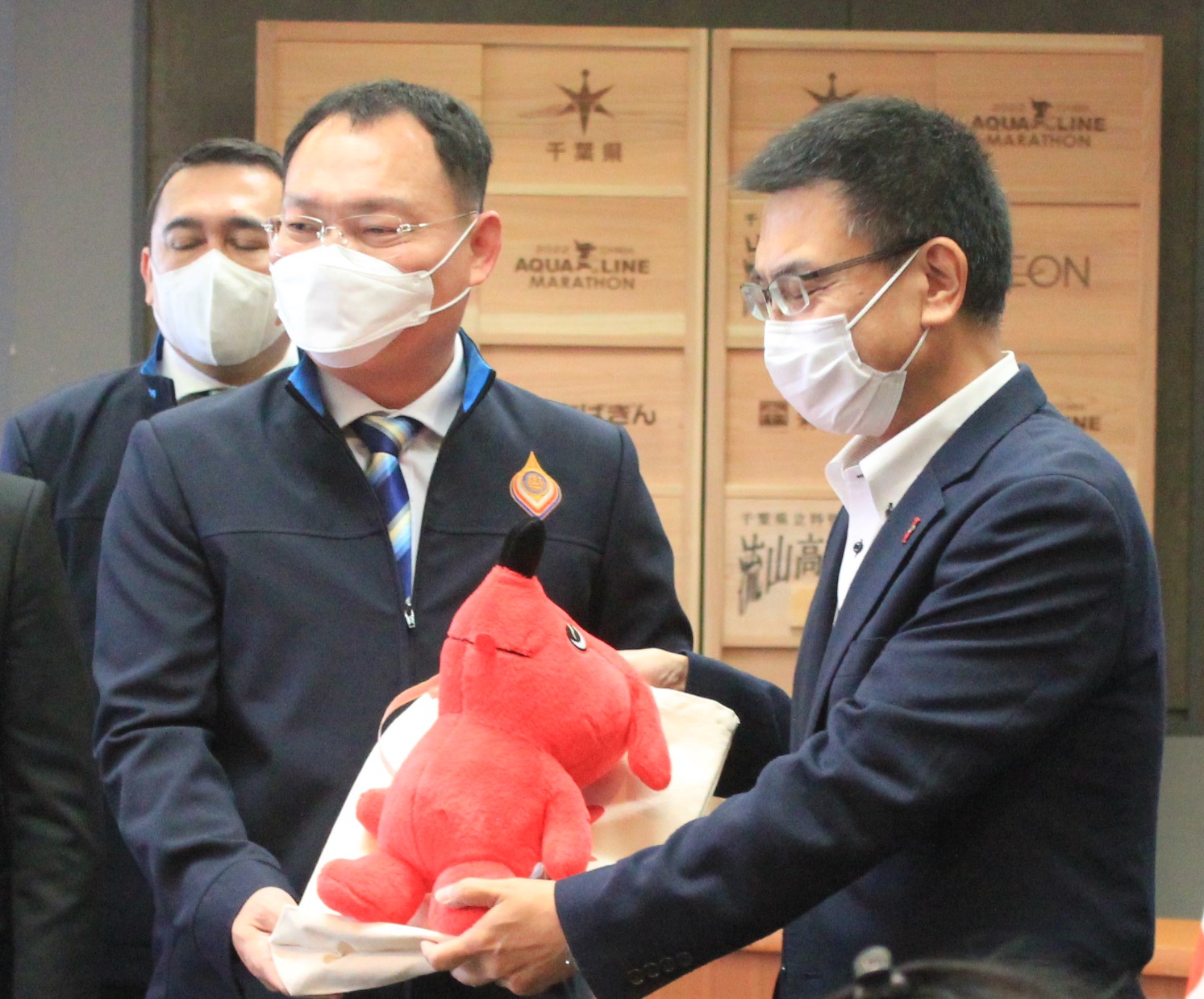 Executive Director Mr. Mr. Yoshinori Ishii presenting gift to Budget Deputy Director Anan Kaewkumnoed
Chiba hosted a delegation from Thailand who came for a technical visit. About 100 officials and staffs from Thailand led by Mr. Anan Kaewkumnoed, Deputy Director of Budget Bureau, Thailand National Science and Technology Development came to Chiba on Thursday, September 15, 2022. On the first day, the group came to visit the prefecture's office and was welcomed by Mr. Yoshinori Ishii, Executive Director for Policy Coordination and Tourism Promotion, Commerce and Industry Department, Tourism Promotion Division. After the official visit, the group is scheduled to explore other parts of the prefecture during their 5-day visit to Chiba.

During the welcome address, Mr. Ishii expressed his gladness of welcoming visitors from abroad following the ease of border restrictions after almost 3 years since the start of the pandemic. On the other hand, Mr. Kaewankumnoed expressed gratitude to Chiba for accommodating their request hoping that this opportunity will provide them a wider knowledge and perspective beneficial in the development of their system as a whole. An exchange of gifts was also held to commemorate the visit.

Among the presentation highlights focused on the introduction of Chiba's 10-year strategic plan, from disaster planning to infrastructure and medical care. Furthermore, in response to the delegation's request, representatives from Chiba City presented the drone technology which has been one of the main focus of this future-oriented city. Chiba City has been selected by the government as a place for demonstrating future technology. Since then, the city is dedicated to achieving industrial innovation in the sky, aiming to be known as the major concentration for drone development. The presentations had brought great attention from the audience, encouraging them to an active participation.

This technical visit surely brought wonderful opportunity not only for the delegation to learn about Japan's strategic planning and technology, but also a great chance for Chiba to promote the prefectural's strength as tourists and meetings destination, and receive feedbacks on how to further improve its tourism industry as Chiba anticipates to welcoming more travelers from Thailand in the near future.