Chiba Accesses Global Industry Leaders at PCMA
---
Headquartered in Chicago, PCMA represents 6,500 meeting industry leaders throughout the globe. With 17 chapters in the United States, Canada and Mexico, its members include planners and trade show/exhibit professionals, suppliers, faculty, students and Emeritus. Chiba Convention Bureau and International Center (CCB-IC) attended their Convening Leaders conference in January and used the opportunity to promote Chiba to over 2,000 meeting organizers as Japan's foremost business events destination alongside staff from the Japanese National Tourism Organization (JNTO) and Makuhari Messe Convention Complex.

Staff promoted Chiba through (1) a printed add in the PCMA Daily show newsletter (2) an appearance on PCMA TV (3) hosting 2 seminars. The promotional activities focused on Chiba's great access through Japan's two major airports, Haneda and Narita International Airports and the ability to hold large scale events at the Makuhari Messe Convention Complex. At the seminar, the CCB-IC was lucky to have meeting planners who have held events in Chiba talk about their experiences, the support they received, and the benefits of holding a conference in Chiba.

PCMA is in the process of expanding in the Asian-Pacific market. The CCB-IC will stay in the front line in this trend while learning to see convention operations from the customer's eyes and leveraging the latest technology to provide the best service.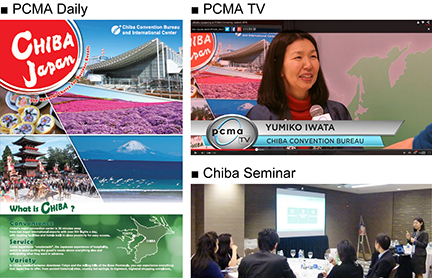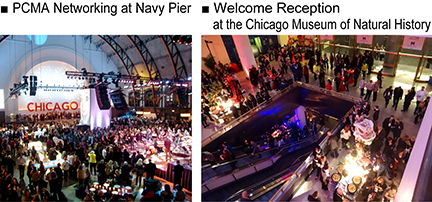 - What is the Professional Convention Management Association (PCMA)?
PCMA is an association for convention and business meeting organizers and suppliers based mainly in North America. It has roughly 6,000 members with over 16 years of convention expertise. Its members can be thought to have a lot of influence on the selection of convention and business meeting destinations.
http://www.pcma.org/
- PCMA Convening Leaders
PCMA Convening Leaders is the PCMA's main annual event and is held in a North American city each year. The conference consists of the association's administrative meetings, officer elections, networking events, and 130 educational sessions and seminars.