"Narita Transit Program" started on March at Narita Airport
---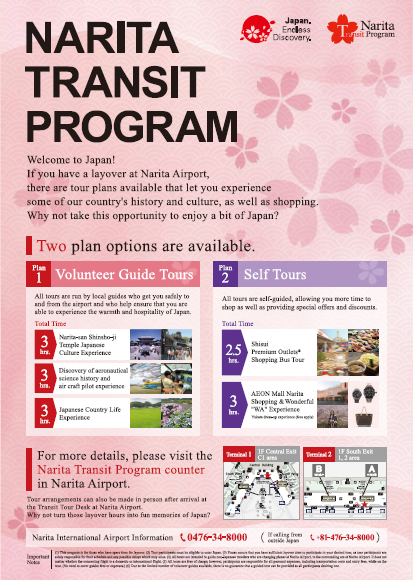 If you have a layover at Narita Airport, take advantage of the Narita Transit Program and choose from several tour options that let you experience Japanese warmth and hospitality, and some of our country's history and culture, as well as shopping. There are 3 guided courses and 2 self-courses.
http://www.narita-transit-program.jp/
[Volunteer Guide Tour]
[1] Narita-san Shinsho-ji Temple and market street Japanese Culture Experience
[2] Discovery of aeronautical science history and air craft pilot experience
[3] Japanese Country Life Experience
[Self Tour (Guidebooks available)]
[4] Shisui Premium Outlets ® Shopping Bus Tour
[5] AEON Mall Narita Shopping & Wonderful "WA" Experience
[Registration Hours]
9:00-12:00
[Registration Desk]
Narita International Airport Terminals 1 & 2 Arrival Lobby Transsit Program Counters
AdobeReader® is required to view this content.
If this program is not installed on your computer, please click on the icon to the right to do so.