The 8th Hyatt Regency in Japan Opened in Chiba
---
The Hyatt Regency Tokyo Bay being the 8th Hyatt Regency in Japan has opened in Urayasu City, Chiba Prefecture on July 12, 2021. Chiba Convention Bureau is among other organizations that attended the opening ceremony. The hotel will also serve as a prestigious venue for the Business Meeting Industry.
The hotel features a total of 350 functional guestrooms including 10 suite rooms, on-site restaurants, club lounge, fitness, meeting facilities, a rooftop bar overlooking Tokyo Bay, and more. In addition, a Chromecast system which is being introduced in all rooms allows guests to enjoy their favorite movies, videos, and music on their own smartphone or tablet onto the large TV screen installed in the room. The warm and cozy interior of the hotel was created by the internationally acclaimed designer, Junko Koshino who was also present during the ceremony.
Located in the superb location in the strikingly beautiful urban landscape of Shin-Urayasu, this urban resort hotel is conveniently accessible from Tokyo, Haneda Airport, and Narita Airport. It also offers a shuttle bus that will take guests directly to the nearby Tokyo Disneyland and Tokyo Disneysea. Guests can also enjoy easy access to the city center and the convention complex, Makuhari Messe.
These conveniences make the Hyatt Regency Tokyo Bay the perfect base for travelers may it be for leisure or business.
For further information, please visit:
Hyatt Regency Tokyo Bay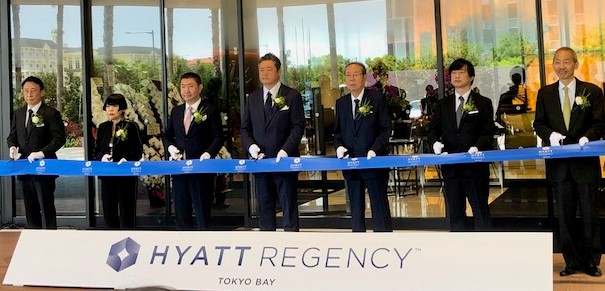 Photo: Cutting of ribbon during the Opening Ceremony.