---
We introduce Chiba's conference facilities, accommodation facilities and unique venues, transport information and attractions.

Chiba MICE Excursion Guide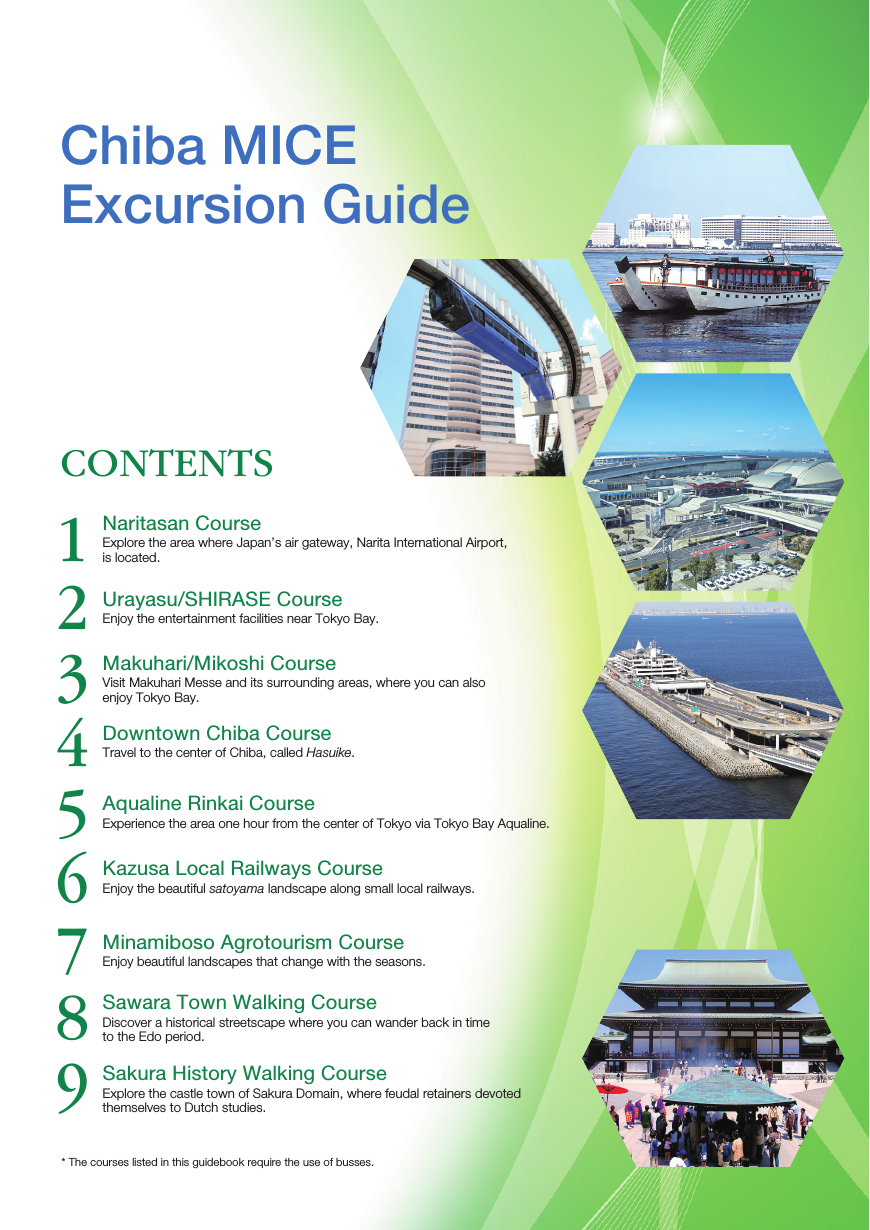 The guidebook showcased 9 attractive course plans from half-day to full-day activities to Japanese history, temples, cultural and hands-on experiences, and more.

In a spirit of "Omotenashi Chiba", or Chiba Hospitality, we provide unique excursion programs. As a peninsula surrounded by the sea on three sides, Chiba Prefecture allows you to feel an intimate connection with nature, history and culture, all while remaining in the Greater Tokyo Metropolitan Area.

These programs cover temples and shrines, historic sites, museums, town walks, appetizing foods prepared with local ingredients, MICE Unique Venues, and other information to help make your visit to Chiba fun and memorable.


Chiba, Japan Unique Venues
"Unique venues" refers to distinctive places, including historical and traditional buildings and art and cultural facilities, which made available as venues for large-scale gatherings such as business meetings and gala dinners, sure to provide participants with an extraordinary experience of arts, culture, and history.

Take advantage of Chiba prefecture's sophisticated urban spaces and vestiges, as well as the abundant nature and attractive tourism resources while being located in the Tokyo metropolitan area.

Also, please check out our newly released, 'Chiba, Japan Unique Venues' guide. This comprehensive e-book features various unique venues such as museums, Japanese gardens, the Chiba monorail, and a lot more through high-resolution photographs and explicit layouts for your reference.

The revised edition edition features 10 exclusive venues made available for meetings, conventions, and alike.


NEW TREND Chiba Glamping Experience
Glamping is a coined word that stands for 'glamorous' and 'camping'. It refers to the new style of camping that allows you to casual yet luxurious camping experince. Enjoy the food which is of the quality of a hotel made from locally produced ingredients. Various activities and hands-on experiences such as Japanese hot spring baths, vegetable and fruit picking, and other nature-related programs are available depending on the facility.
Chiba MICE Promotional Video
In the midst of intensifying global competition in attracting business events, Chiba Convention continued to promote Chiba internationally as meeting events destination. This time, CCB is reaching out to people in and out of Japan through the 'Chiba Japan MICE Promotion Video'. This video will serve as elaborative tool to efficiently introduce Chiba and its advantages as suitable venue even after the pandemic.
(JNTO) Japan Virtual Visit CHIBA
While it is difficult for travelers to go on places due to Covid19, the Japan National Tourism Organization (JNTO) has produced virtual videos which feature the charms of the destination venues, aimed to attract overseas organizers of international conferences, The Japan Virtual Tour. Chiba City is among the selected cities highlighted in the program.
Travel Japan Via Movie (JNTO)
Case Study Video Incentive Event (English,Chinese,Korean/1min43sec)
A Thailand company held a Top Sales Incentive Event in Chiba and gathered approx. 1,100 participants.
[Autumn 2015]
Download (simplified Chinese character,traditional Chinese character,Korean)
Chiba Prefecture Image Video (30 sec / 2 min)
Chiba City Image Video (for visitors/ for planners)
This video was created by Minatomachi Kisarazu Project Promotion Council in 2020 to promote Kisarazu Port, a in Kisarazu City which can accommodate large-scale vessels such as cruises, cargo ships, etc. It is intended for shipping companies and travel agencies that operate these kinds of water vessels. The video also introduces many sightseeing destinations along with various activities exclusive to Kisarazu City.
Urayasu City MICE Promotion Video
With the aim of widely promoting Urayasu City as suitable place to hold business events in Japan, we have created a 2-minute MICE Promotion video. The video aimed to provide basic information about the city and to attract international event organizers. Please take a look and discover the charms of the city.
Please contact us for brochures and the DVD.
MICE Division, Chiba Convention Bureau and International Center

TEL
+81-43-297-2751
E-mail
request@ccb.or.jp